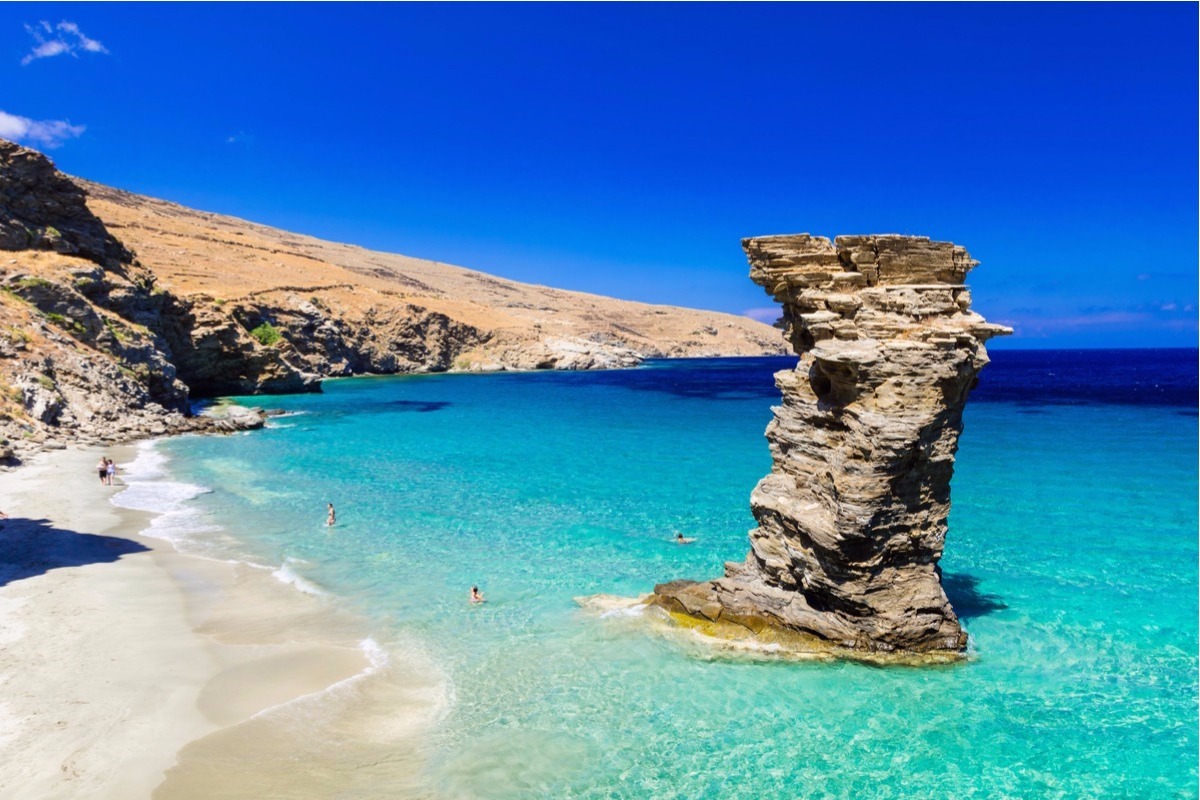 Follow the path across the villages of Andros Island
In today's Micra Anglia special article we will take you on a long stroll across the villages of Andros worth discovering. We promise to return with another article where we will discover all the secret paths across the Chora of Andros where Micra Anglia Boutique Hotel is located; as for now let us share some hidden tips for Andros' hinterland and coasts.
We will start from Gavrio as this is the main port of Andros where you will get a first idea of what is more to come. Gavrio nowadays is a fully organised tourist site of Andros with a lot of restaurants and shops to explore. If you decide to visit Gavrio then do not miss swimming at Fellos beach and exploring the monastery of Aghios Nikolaos.
Another important village of Andros, at the west side, is Batsi. Here you will find the most vibrant spot on the island. It combines the touristic proposals for food and drink with a beautiful coastal line and a fully organised beach, ideal for swimming and more. In Batsi you will find the biggest monastery of Andros in the area called Kapsorahi.
Korthi is another popular village of Andros thanks to its famous beaches like the one called 'tis grias to pidima'. Other nearby beaches are Mylos, Vintzi and Aghia Ekaterini where you can enjoy the sun and the sea. Sites of Korthi include the old school of Aghia Triada and the church of Aghios Ioannis.
If you want to explore the history of Andros then drive as far as Paleopolis where excavations found one of the most important archaeological settlements of the Aegean region. A statue of Hermes stands out from the findings and you can also visit the museum located there.
Now we will visit the villages of Andros's hinterland that are lavishly green with waters and springs that give to your explorations a more natural perspective. Visit Mesaria, just 4 klm from Chora for hiking and visit the church of Taxiarhes where at Menites you will also enjoy the nature of Andros through strolls in the village and the nearby routes. In the village of Apoikia now you will quenst your thirst at the famous sprigs of Sariza and you simply must walk through the Pithara area with the lakes and the waterfalls. In Syneti you will admire the picturesque windmills.
Those were just some of the Andros villages that you have to discover for the natural beauty, a coffee at the shades of big trees and dives in crystal clear waters. The concierge of Micra Anglia Boutique Hotel will give you all the details on how to reach them. For more just click on www.micra-anglia.gr